As selected by local bloggers
Featured Israeli travel bloggers recommendations
South Tel Aviv is blessed with wonderful and diverse locations for photography. From the Parisian style Neve Tzedek neighborhood, hipster Florentin, to ancient Jaffa with its spectacular vantage points.
Read on to discover the best recommendations by local Israeli Travel bloggers in their own words, of favorite photography locations in Southern Tel Aviv and Jaffa.
So where can you discover spots like a secret 24- centimetres wide alley and 4,000-year-old relics garden with views of the entire coastline?
Florentin
Graffiti, fun hangouts and hidden nooks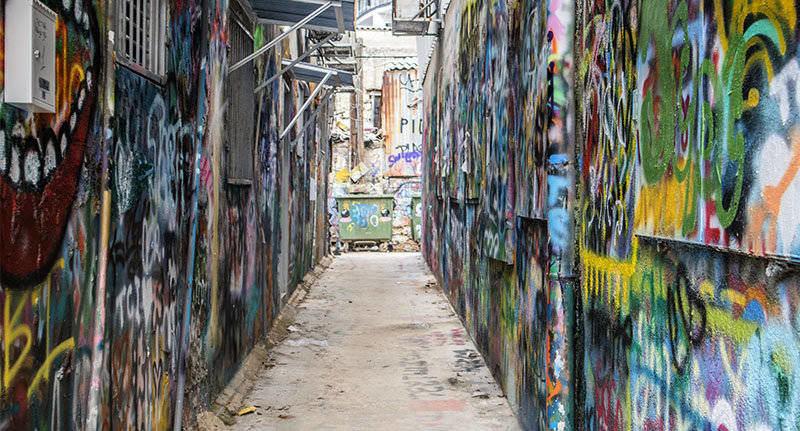 "Florentin neighborhood is known for its graffiti and street art, the great places to go out in, established shops and workshops, and trendy cool restaurants.
Thanks to the impressive graffiti paintings scattered throughout the neighborhood, it has also become a favorite place for photographers.
On my recent visit to the Florentin, I decided to join a graffiti tour to find the hidden places of the neighborhood worth photographing.
One of the most special streets on the tour was Tzrifin Street. A very narrow street with graffiti covered by all its walls. This street is considered an area where amateur as well as seasoned graffiti artists come to experiment with their art. I returned to this location several times afterwards. I was surprised to discover new graffiti art each time I visited.
Tzrifin Street
is very narrow, only about 24 mm wide, a fact that can make taking the photos of the graffiti challenging. To make good use of this perfect photo opportunity location, try arriving early in the morning when it is empty of people, before tourists arrive, or just exercise patience.
If you have time, I recommend passing through the narrow streets nearby HaMasor and Khatserim Streets. You can find great spots for photography in these streets as well."
Shir Yam's post on a graffiti tour in Florentin (Hebrew).
See my 10 photos to inspire you to see graffiti in Florentin here.
Neve Tzedek
View this post on Instagram

Photo: Sahar Keret, y.o.l.o. Blog
Classic European feel in Tel Aviv
Maya Levy from Secretour and Maya and Friends Recommend:
"I love Neve Tzedek, this is a neighborhood in the heart of Tel Aviv, but at the same time, it has a different and unique character of its own.
Neve Tzedek is like visiting Notting Hill when in London.
When I lived in Krayot [north Israel] and I used to come to Tel Aviv, always, but always Neve Tzedek was part of my tour of Tel Aviv.
Now that travelling abroad is not possible due to COVID-19, if you want to feel as if you are overseas, that feeling that elevates your mood, a little visit to Neve Tzedek will do the job.
Each time I visit the area, I discover some new hidden gem corner that I had not noticed before.
The narrow, colorful streets, boutique shops, galleries, and the unique and international atmosphere.
The truth is that Neve Tzedek neighborhood as a whole is an excellent location take great photos.There is no need to make specific plans ahead. Each corner has its own unique quality and will photograph well.
The perfect partner for traveling in Tel Aviv is my mom; we enjoy strolling calmly, going to the shops, having coffee and having dessert."
Levinsky Market
Photogenic combination of the traditional and trendy
Sari and Mia (who are also sisters) and joint blog owners of Chasing Lenscapes, travel magazine:
"Levinsky Market is one of our favorite places in Tel Aviv and no wonder it is considered one of the trendy and photogenic food markets of the city. Photography and food lovers are invited to make their way through the colorful walls and street art, the vibrant food stands, and the Instagram worthy boutique Delicatessens.
View this post on Instagram
The lively market in the heart of Tel Aviv is a cultural melting pot that brings together a multitude of immigrants who arrived to Israel over the years and settled in the neighborhood. Each stall tells a different story and every corner has slight representations different cultures. Levinsky market is a mix of food stalls, shops, cafes and bars in various styles. Combining traditional atmosphere alongside trendy and innovative.
The weekend is the perfect time to visit the market
As we tour the streets of the market, we cannot remain indifferent to the colorful walls, the intoxicating scents and the lively market stalls. The photogenic jute sacks are filled with aromatic spices, tea infusions, dried fruits and nuts. Each well-stocked boutique delicatessen displays spicy olives, cheeses and local pastries.
So how do you start the weekend? Take a camera and head to the trendy market of Tel Aviv! Wander the streets, wash your eyes on street art, skip delicacies, cafes and restaurants, taste local, savor the intoxicating smells and return home tired and satisfied."
You can read about all the stalls, restaurants and bars they recommend in Chasing Lenscapes' post on Levinsky Market.
Summit Garden – Jaffa Hill
Stunning views to the coastline
Iris Svinik Carasso, from Until the Next Trip blog recommends the Summit Garden (HaPisga) in Jaffa Hill.
"Here in the garden, at the top of the hill is one of the most beautiful viewpoints of Tel Aviv-Jaffa.
It is a popular site for both tourists and locals alike because Tel Aviv and its' entire coastline can be seen from here, right up to the seaside city of Herzliya. Brides and Grooms also like to come and take their pre-wedding photos here.
View this post on Instagram
The large garden stands on a special green hill, with Israeli plants. The plants are resistant to harsh weather conditions such as salt and high temperatures. A statue in the form of a gateway by Daniel Kafri stands in the plaza on the top of the garden.
The statue is called "Gate of Faith" and symbolizes the entrance gate to the land of Israel and the promise of the land to the three fathers. Abraham, Isaac and Jacob.
The 'Wising Bridge'
is another popular photography site. It is a beautiful wooden bridge that runs through the garden with various zodiac symbols adorning it. According to local legend, if you touch your zodiac symbol, close your eyes and make a wish, it come true within a year.
The garden is called the "Summit Garden" because it is locatedat the high point of Tel Jaffa, in the center of Old Jaffa, but its official name is the Shtrachman Garden, named after one of Jaffa's development entrepreneurs.
An archaeological site is located in the southern part of the garden. The excavations carried out at the site revealed a Pharaonic gate and settlement remains from 4000 years ago !!
Around the garden, you can stroll through the picturesque alleys of Jaffa among the beautiful art galleries, restaurants and shops. Close to the garden are the Ilana Gur Museum of Sculpture, the Uri Geller Museum and Kedumim Square.
How to get to the Summit Garden Jaffa: head northwest from the Jaffa Clock Square toward the sea or write 'Summit Garden' Kedumim Square' in your online map navigator app."
Jaffa Old Town
Diverse photo opportunities in a city of fairy tales
Rinat Meron Barak,Travels in Between blog:
"I used to have a notion that a vacation must take place away from home. If you haven't driven for at least an hour – an hour and a half it doesn't count. Because what's interesting about staying in a hotel half an hour away from your home?
Over the years, I learned to appreciate and enjoy everywhere and every trip, as well as discovering that a vacation near home can be just as enjoyable as vacationing in the north or the south of Israel.
View this post on Instagram
A couple of years ago we went on a long weekend in Jaffa. I was just about to give birth to my third daughter, and a vacation at the boutique hotel in Jaffa was "just up my alley".
Then, almost five years ago, I rediscovered Jaffa. The bustling flea market, the alleys of the Old City, the small cafes, the colors, the smells and the people who define Jaffa as it is.
One Wednesday evening at dusk, the most beautiful hour of the day, I took a walking tour of ancient Jaffa. "Jaffa is a fairy-tale city", told us Uri Moore, our guide of our tour to the Old City of Jaffa.
Many stories are intertwined in the past of the city of Jaffa, the culturally mixed city that overlooks the beautiful coastline of Tel Aviv. We toured for about two hours from the Clock Tower, through the alleys of the Old City, St. Peter's Church, the Wishing Bridge overlooking the city from above, and finished with a perfect sunset in the renewed Jaffa port. In the words of a popular nostalgic Israeli song "There is nothing like Jaffa at night" says the song. And I can add that there nothing like Jaffa during the days too."
If you are looking for places with beautiful and photogenic locations for photography, n Tel Aviv, South Tel Aviv and Jaffa are your locations to go to. You only have to choose what you want to photograph, and where you want to spend your time. Whether graffiti walls in a hipster neighborhood, vibrant markets, and spectacular views of the coastline. There are picturesque alleys, and neighborhoods with an international character. Take one or more of these local travel bloggers' recommendations and have some fun taking awesome photos.
Do you know beautiful places for photography in southern Tel Aviv and Jaffa that were not mentioned in the post? Write me here in the comments; I'd love to know about them.
There are books that are almost just as good as being at the destination their plot is taking place at. Other books will make you like the destinations where they are set so much, you will end up visiting them.