A FLAVORFUL, NON-APOLOGETIC HIGH CALORIE CULINARY PEEK
One of the things I appreciate about the beautiful coastal city of Haifa, is its' unique co-existence of different religions and cultures.
Wadi Nisnas in Haifa's downtown is a Christian-Arab neighborhood that oozes authenticity. It is also the place to visit, if you are looking for an unfiltered opportunity to meet the locals, taste the fresh flavors and discover hidden street art, a little off the beaten track.
I was invited by Naama Sobol who owns the blog Eating Culture to join her Secret Places Culinary and Culture Tour of Wadi Nisnas.
As I wrote above, it's an authentic neighborhood so don't expect touristy shops.  It's the real deal. The people are down to earth and friendly and the food and stores, are not what you find in your regular supermarkets. Many of the shop sellers are the owners, and take great pride in their businesses.
Here's a small taste (pardon the pun) of some highlights of the tour:
HOME MADE COMFORTING FOOD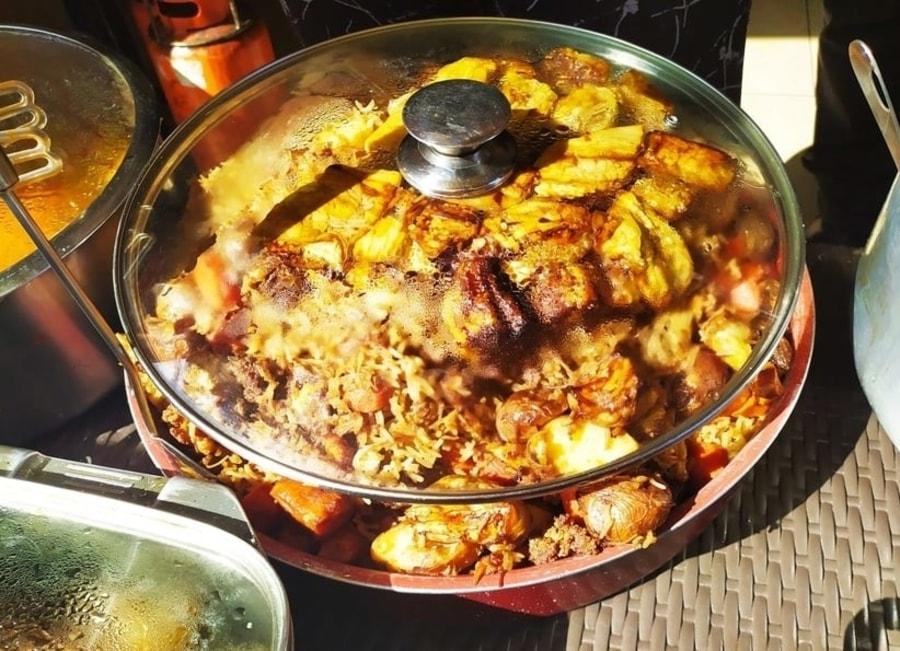 Maqlooba is a popular Arabic dish typically served in the levant. The dish's name literally translates as "upside down", because it is flipped before it's served. It's made up of meat, fried vegetables and rice cooked in a pot. Surprisingly, here there were hearty dishes of a vegetarian versions.
FRESH PRODUCE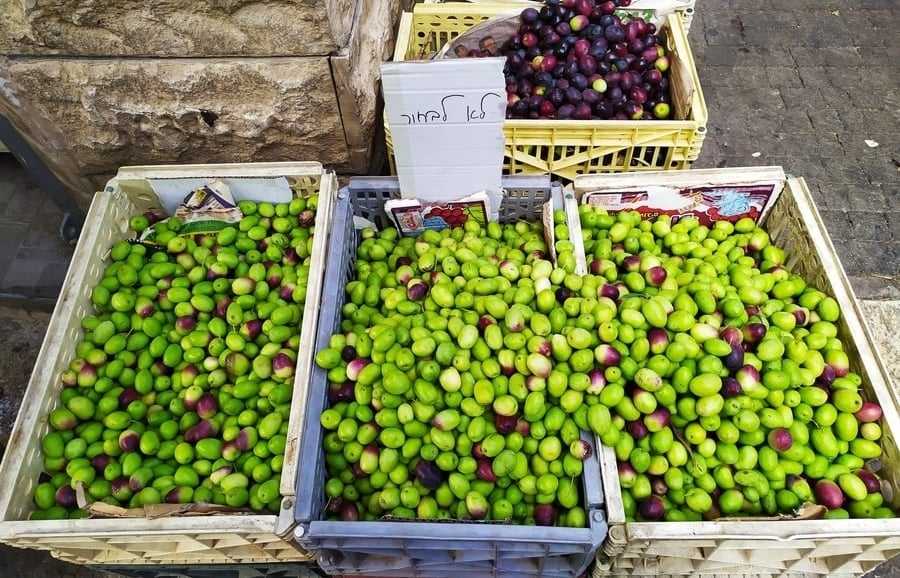 Nice to meet you: olives, straight from the tree. This is what they look like before they go through the process of being pickled. In case you were contemplating it, the hand-written sign says "don't pick olives by yourselves".
DELICIOUS COFFEE
We were taken to a small fragrant coffee shop. It sells coffee blends that are grounded in the shop with different herb mixes. The shop offered a unique desert made of a type of fruit leather and honey mix rolls that was aptly named "heaven".
DIVINE PICKLES
Speaking of heaven, I'm a sworn pickles addict.  So the home made specialty pickles hit the mark for me. There were garlic pickles (luckily, had no date that night), olives and Okra.  Yumm.  Unfortunately I didn't get any proper photos. You'll just have to believe me, and be a little careful, because some of them are extremely spicy and hot. I love it!
SPECIALTY FOODS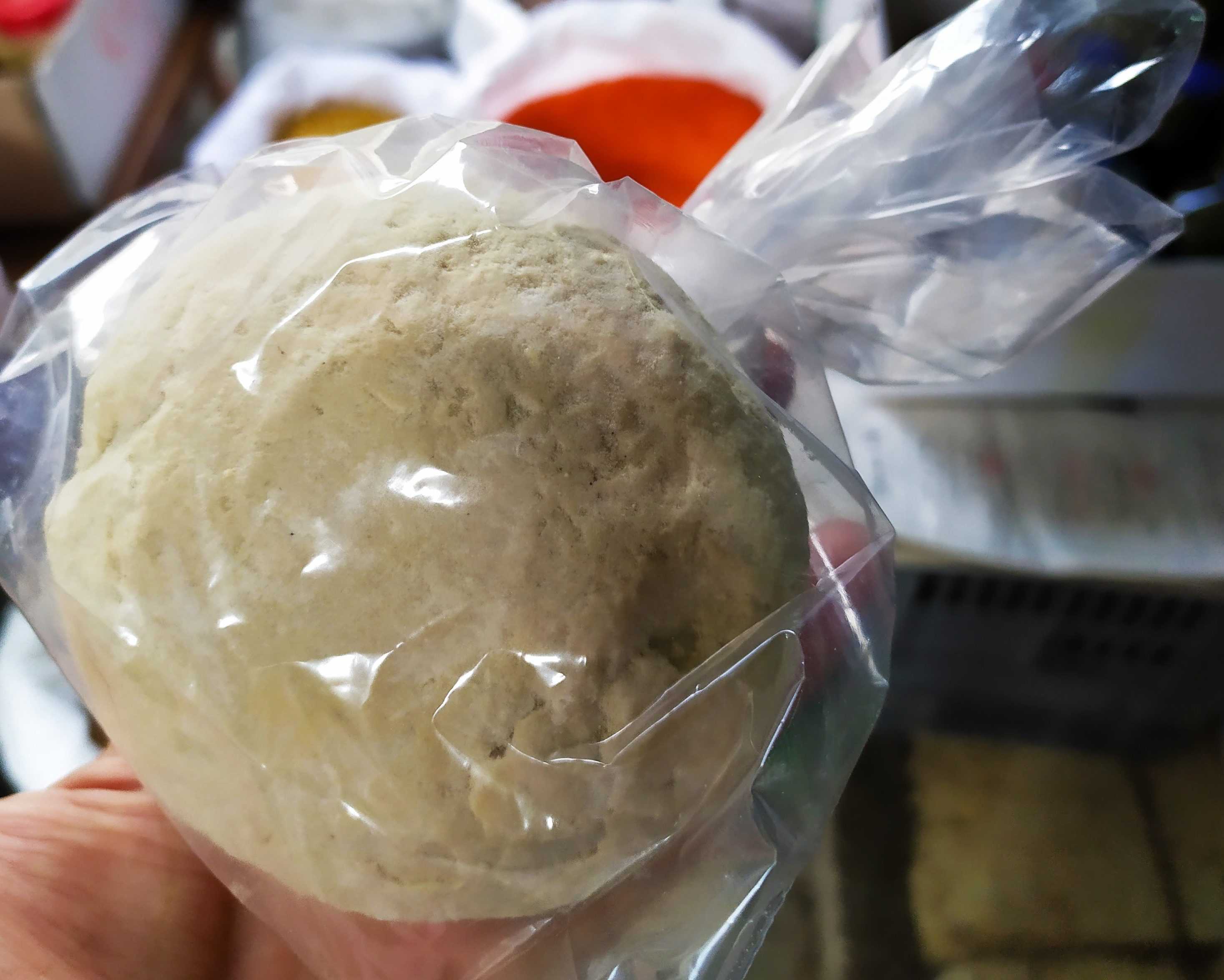 Among the fresh plants, dried herbs and tea mixes, were "cheese stones".  These are apparently concentrated cheese blocks made of yogurt. Their texture resembles that of Parmesan. Never have I encountered these before.
FALAFEL
There is falafel, and then there is Falafel George. Israel's leading national news platform Ynet has crowned it as one of the best falafels in Israel. George the owner is very hospitable and sweet. The falafel we were served was devoured in a matter of seconds. Naama told us about George's history in the place, and explained about the different types of falafel that exist and their origins.
SWEET STUFF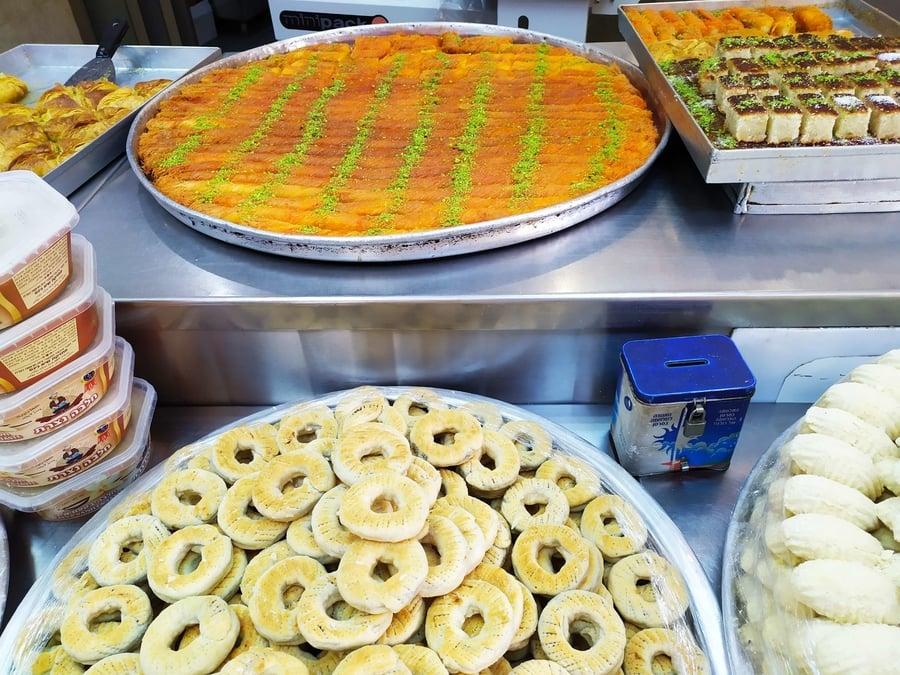 Another shop on the outskirts of the market had a huge variety of middle eastern pastries and Knafeh on display. I thanked Naama for the great tour and ran for my life – and for the sake of my belly circumference. No further explanation needed.
STREET ART WITH A SAYING – FOOD FOR THOUGHT
Although the local food was the focus of the tour, the main attraction for me, was the street art.  As we walked through the bustling market Naama pointed out "hidden gems" of public art. It definitely provided me with "food for thought".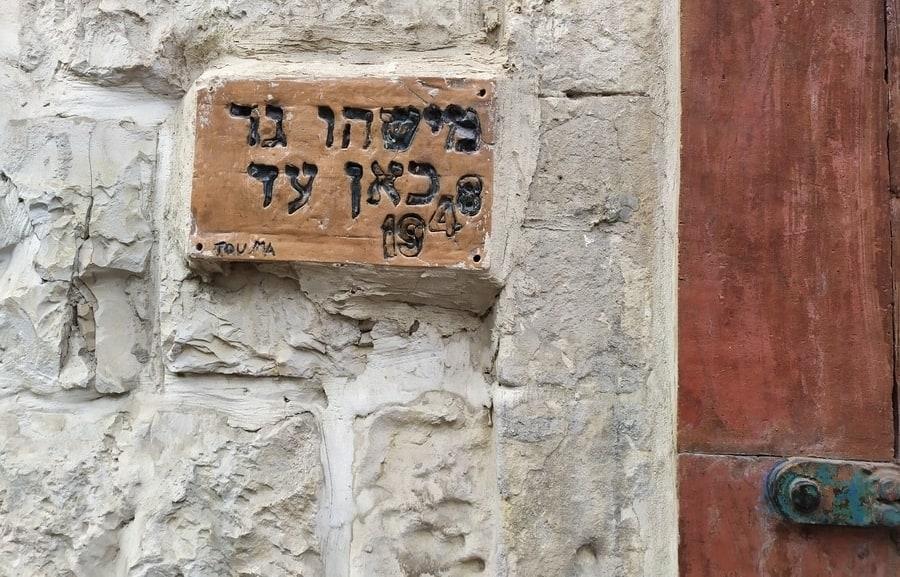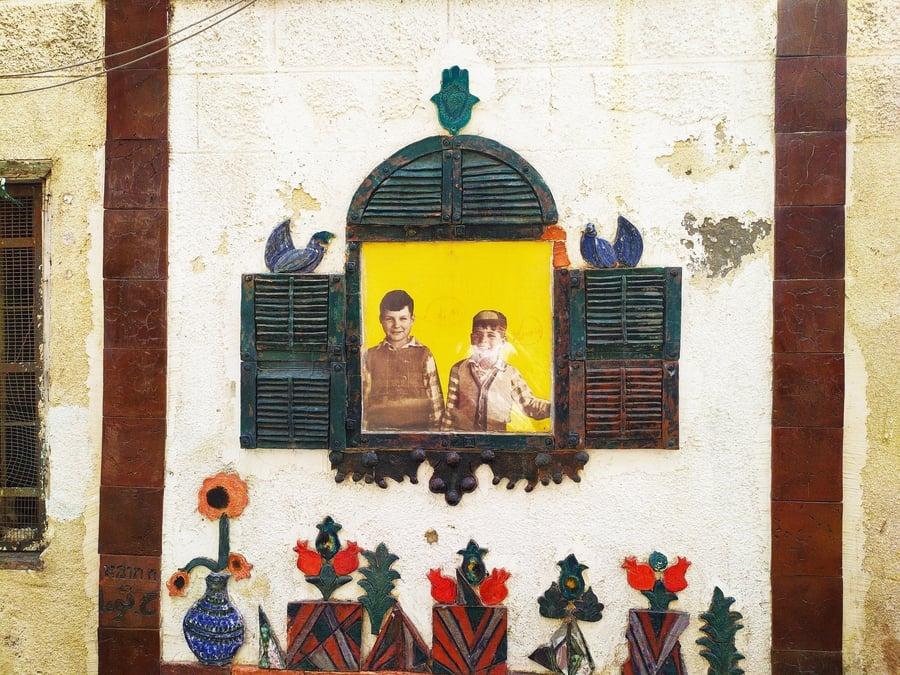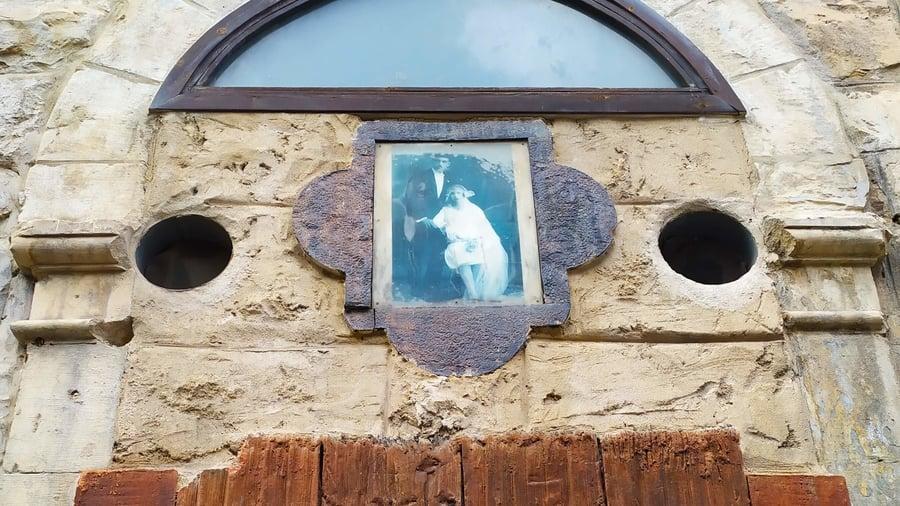 A photo of the former residents of the house tells bits of a story.
The house in the photo above is said to have inspired the internationally acclaimed Israeli author Sami Michael to write the novel taught in every Israeli school, A Trumpet in the Wadi.  The plot set in Wadi Nisnas, tells of a love story between a an immigrant Russian Jew and an Arabic woman.
On the front wall of the building, there is an embedding of the photo of a couple that lived in it. The artwork was created by the artist who later lived in this building too.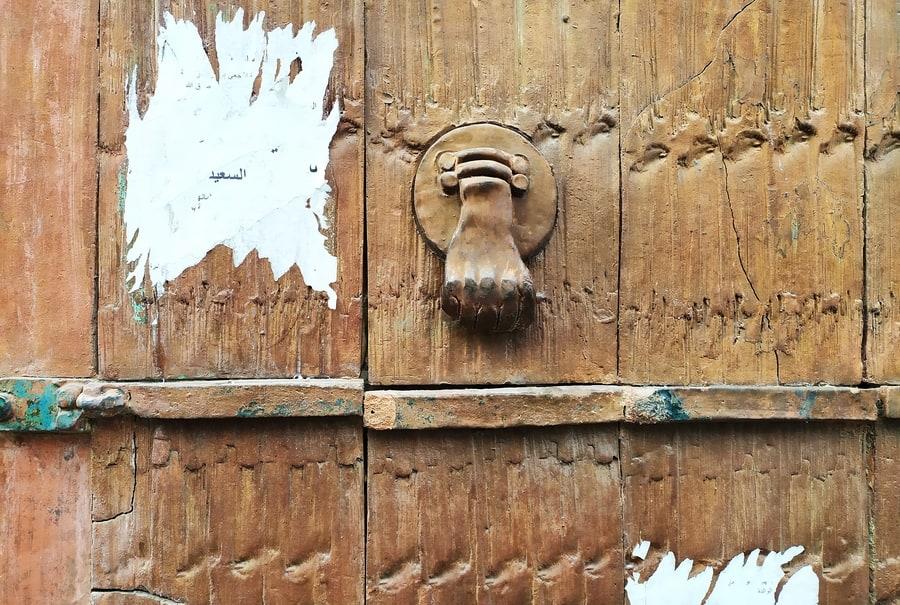 Knock on wood. The old buildings and doors at the market are full of character.
Unlike other stores in Haifa, Wadi Nisnas Market is open on Saturdays. So it's a good option to spend time when everything else is closed.  The street art of course is always there, even on Sundays. So is the cultural and political history.
Do you like hipster off the beaten-track markets? Here are 5 reasons to visit Haifa's Talpiot Market.
Want to read more about street art in Israel? Read Graffiti Tour in Jerusalem to discover new colors in the Holy City.