When you cannot fly, you can bring the flavors and dishes from around the world to you, using recipes that can be prepared at home.
Vicki Gurstein, shares one of her favorite Latin recipes – Toffee Arepa.
I encountered Arepa for the first time in Medellin, Colombia, during my trip to Central and South America.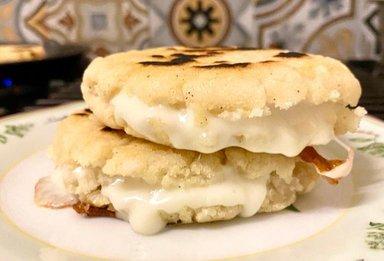 Credit: Vicky Gorshtein
Arepa is a type of flat bread made from corn flour. In Latin America, it is a typical dish found on almost any table. It is customary to eat with a variety of fillings. Both savory and sweet.
Vicki tells a little bit about herself, sharing her occupation with us, and of course her appetizing Toffee Arepa recipe: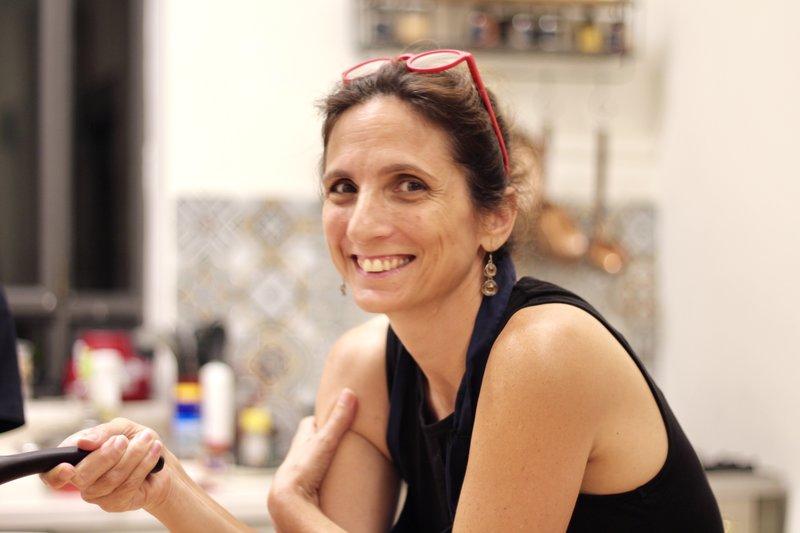 Vicki Gurstein, photography: Shai and Bilder
Nice to meet you, Vicki Gorshtein, I am a blogger who also  creates and teaches Latin food cooking workshops.
I help my clients and readers to be creative in the kitchen and to get to know new international cooking through my my workshops, as well as through the recipes in my blog.
My cooking workshops are my second career, in which I have transformed my love of cooking and baking into my profession.
My delicious blog has everything you want to know about the Latin cuisine. Some spices and use of special raw materials, influences of different countries on the Latin cuisine, and of course lots of classic recipes, some well known, and others that are  less familiar.
All recipes are adapted to the Israeli kitchen, and with raw materials that can be found in Israel. In addition you will find on my blog, stories and travel itineraries about places we traveled in, in South America. For example we've been to Pucón and the Atacama Desert in Chile, Bariloche and Buenos Aires in Argentina, Thailand, and of coarse, Israel.
So how to prepare Toffee Arepa at home:
Toffee Arepa recipe
Groceries
2 cups corn flour for tortillas (Masa Harina)
2 cups hot water
1 teaspoon salt
2 tablespoons olive oil
slices of mozzarella cheese
Preparation:
1.  Place the flour, oil and salt in a deep bowl.
2. Pour the hot water in, and wait for about three minutes until the dough texture is soft and pleasant to the touch.
3.  Create 6 equally sized balls
4.  Create 6 chubby slices from each ball
5.  Heat a little olive oil in a skillet
6.  Fry the slices well for about three minutes on each side
7.  Place on a plate, cut the flat bread across (similarly to Pita Bread) and place several slices of mozzarella cheese inside each slice.
8.  Place on the frying pan and fry each side for two extra minutes until the cheese melts.
9. Plate and eat.
In my cooking workshops you can get to know new flavors, prepare the classic dishes of the different Latin kitchens such as: empanadas, Ceviche, quinoa salad and more.
I hold my workshops for closed groups in my personal kitchen in the picturesque Moshav Zippory where I live.  You can celebrate birthdays, hold a bonding activity or other occasions, and enjoy a colorful, tasty workshop in a happy Latin atmosphere.
The workshop includes preparation of 6 different dishes and is accompanied by Latin snacks, cold and hot drinks and a cocktail!  The workshop is 3 hours long, after which we eat the food prepared.
The workshop is priced at 300 NIS per person.
If you are traveling in the North of Israel around my area I would be happy to offer you an indulgent picnic basket with some Latin vibes.
In the basket you will find: corn empanadas, little Jerusalem bagels, Peruvian quinoa salad, sliced fresh vegetables, dried tomato spread, cilantro pesto, eggplant and Tahini mix spread, home made white cheese, Syrian olives, Tzfat Cheese, cold Mexican hibiscus tea and muffins for desert.
The basket also includes a small olive oil bottle from the organic Olive Press Rish La Kish, glasses, perishable knives and fork sets as well as serviettes.
The basket is priced at 200 NIS per couple, with an addition of 50 NIS per extra person. The basket needs to be ordered a day in advance and picked up from Zippory.
Find Vicki on her blog Cooking Views and on her Instagram.